First of all, I just want to apologize for yesterday's post. It should have
occurred
to me that there is too much violence in the world, and too much obesity as well.
Leave it to me to find a way to encourage both obesity and violence at once.
Fried chicken AND waffles WITH syrup AND butter PLUS SLAPPING!
my bad.
sorry.
So to make up for it today I am posting a collection of Weight Watcher recipes card from 1974.
(Do you remember how much you weighted in 1974?
Were you on Weight Watchers back then, even though looking back, you now realize that you looked GREAT back then?)
If you were, these cards should bring back some mighty fond memories.
If you missed the recipe cards the first time around, just be glad that people with large attics often save random stuff.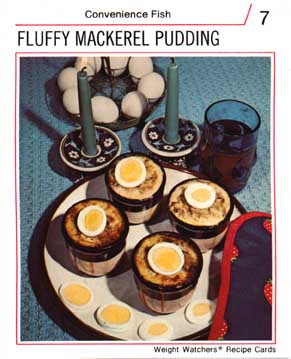 I'm not positive, but I have a very strong feeling that
fluffy
mackerel pudding would cause me to lose weight,
right now!
Just thinking about it makes my stomach clench.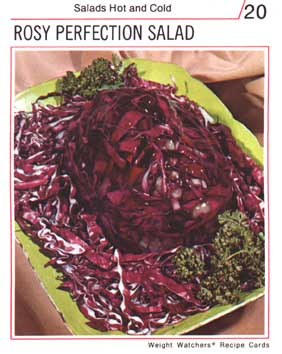 This would make me wince as well, and think of a way to leave the table ASAP.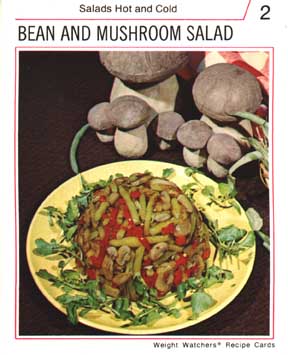 I have always believed in decorating the table as a means of providing dining atmosphere, even for the simplest of meals.
The mushrooms in this shot...scary. I'm sure I would be scared straight on the subject of over eating if I had them lurking over my dinner plate.
My fellow librarian Karen shared these recipes cards with me at ref desk on Tuesday night. They, and the rest of the 1974 Weight Watcher Recipe cards can be found on
Candyboot's
website, she who discovered them in her mom attic, and had the good sense to grab them and share them with the world.
Candyboots
also provides commentary about
the recipe cards
. Just so you know, don't be drinking milk while you read her thoughts unless you don't mind having milk shoot out of your nose because you are
laughing
so hard.
While Karen and I were looking through the cards on our computers at reference desk, we were laughing and snorting so loudly that the patrons were looking up and shushing us.
I didn't care.
I confess, as a librarian I am simply fresh out of shush.
The entire recipe card collection has been published as a book.
Perfect for my collection of strange cook books, don't you think?
Yeah, I thought so too.
Enjoy!